My Very 1st Virgin Brazilian Wax at STRIP!
I was invited for a Strawberry Brazilian Wax, from Strip SG.
It was my 2nd invitation, I had rejected 1 invitation last year because I was scared of pain. Back then, my perception of Brazilian Wax was nothing but pain and itch!

I was so wrong!

I had mine at the Raffles City outlet. Not easy to find because its main entrance is from outside the mall, facing Chjimes. If you are to go through the shopping mall's shops, the outlet is just behind the GUESS boutique.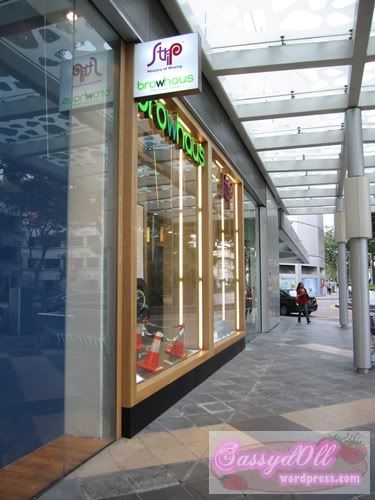 My very First Brazilian Wax flavour is Strawberry!

STRIP's latest Strawberry Wax is a gentle and soothing formula that is perfect for Brazilian Virgins. This pretty pink wax contains Aloe Vera and Chamomile extracts which are well-known to calm even the most delicate skin.

This one-time Strawberry Brazilian Wax package includes:

[1] Consultation with the experienced Waxpert

[2] 7 drops of Bach Flower Essence (to calm anxiety)

[3] Hygiene Pack (wipes and spatulassssssss, many of them!)

[4] Brazilian Virgin Kit (5-piece travel-sized aftercare products)

[5] Aftercare card stating the Do's and Dont's, with Strip Hotline details.

Upon my arrival, I went up to their funky-designed reception to "report my attendance"! The folks from Strip were all so friendly, making me feeling so at ease.

I had Samantha explaining to me about what's going to happen during the Brazilian wax session.

She gave me an idea of which area of the Brazilian areas has the most pain but assured me I would be in good hands as the Waxpert whom she assigned to me was their senior in the outlet, and had a lot of experiences in Brazilian waxing.

Samantha also shared with me their Stripology, Hygiene, Speed, Quality.

Hygiene as in every waxing dips their customers have, the Waxpert is always using a brand new "ice cream stick". There will be NO chance of double dip. Double dip as in using an "ice cream stick", dip once, apply on the skin, dip again, strictly NO!

Speed, especially Brazilian Wax Virgins, we will want to have the waxing process done once and for all in a swift so as to lessen and get over with the pain! And yes, Strip Waxperts wax at full speed with good accuracy!

Quality, in their products. All their products are specially formulated and will never have imitated ones!

The consultation was a short one and before I knew it, I was going to meet my Waxpert, Sally!

Strawberry Brazilian Wax is starting soon!

In this one-time package, everyone is entitled to a Hygiene Pack which consists of wipes and many "ice cream sticks" (serves as a spatula). The wipes are meant to cleanse the pubic area before allowing the Waxpert to attend to me, while the "ice cream" sticks are to be dipped into the warm wax and applied to the Brazilian area.

The wipes are in sachets, unexposed to the dirty air, safe to wipe before wax!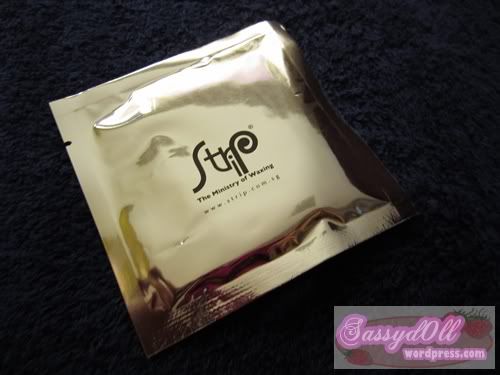 A wall full of Hygiene Packs! Sure enough for all customers!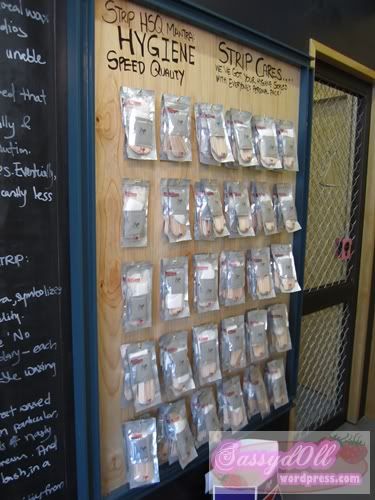 Inside the room!

I was not alone!

I had these cute Eazy Peazy Squeezy with me at my bedside throughout my session! At any point of time if I need to hold on to something to endure the pain, I was free to grab any one of them and squeezed them hard! :O




And oh, if you like to bring home anyof these Eazy Peazy Squeezy, it is retailing at $10 each. Can be used as a de-stresser while at work or school!




If the Eazy Peazy Squeezy is still not enough for you, open your eyes and start reading the Mantra scribbled everywhere in the room, be it on the walls or ceilings! They will ****** help to divert your attention during Brazilian waxing!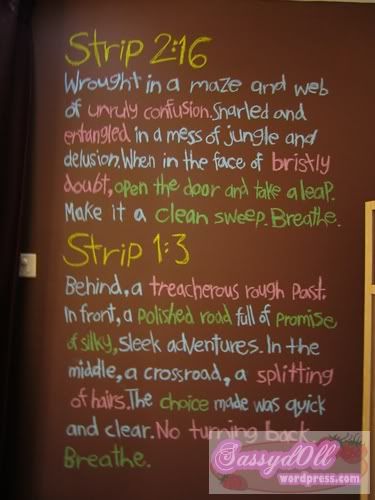 Every room has walls scribbled with Mantra, so Brazilian virgins, not to worry!

Lying down, naked bottom!

This is where I had my Virgin Brazilian Wax done, on this bed, in this room!
Unforgettable!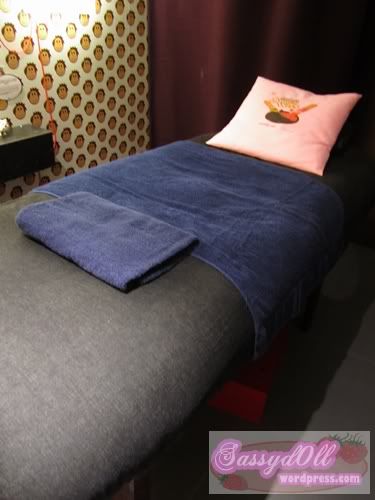 The colour of the strawberry wax was exactly the same as Yam Yam in Strawberry, pink! The wax looked creamy and rich but in actual fact, it felt soft! The strawberry scent was very light, I could hardly smell it during my wax!

To be applied in warm temperature. Texture is soft, easy to apply as a thin layer on the skin. Because of the thin layer, hardening process is very fast! It dries quickly and evenly, ensuring a minimum discomfort during peeling for Brazilian Wax Virgins.




While I was lying on the bed, my Waxpert gave me 7 drops of Bach Flower Essence which was meant to calm anxiety, a remedy to calm one's emotion. The 7 drops were on my under-tongue and tasted like…. Brandy?

Sally was nice and gentle, she tried to talk to me to divert my attention, and it worked! In the end I didn't get to touch the Eazy Peazy Squeezy! Haha! She told me she would take about 10 strips to wax off my pubic hair.

She talked to me throughout the waxing process, while dipping and spreading the wax on my Brazilian area, waited for the wax to harden, and each time when it's time to peel off the hardened wax, she would tell me to wait, to signal to me she's going to peel off.

My first pull wasn't very painful, it was done in a swift. Immediately after the wax was peeled off, Waxpert had her palm pressed on the "freshly-waxed" area to calm the skin, it helped to reduce the pain very efficiently.

And when she came to the two most painful areas (Labia), she would asked me to take a deep breath in and breath out as she peeled in a swift!

She showed me my pubic hair which was waxed off, explaining to me the differences of the pubic on different areas, wow, I never knew pubic hair was different on the different areas on the delicate skin.

Towards the end, I was left with abit of touchup to remove the uber short 'leftovers' using a tweezer. She was quick and I didn't feel anything. The pain was over!

At the end of the wax, she applied the Peace ampoule on my Brazilian area to soothe and calm the skin. I didn't feel any pain, the pain was REALLY over!

Yeah, I survived my Virgin Brazilian Wax!

Okay, I've survived! No screaming, no kicking, no jumping, no tearing! Everything went smoothly and I was really really well-taken care of!

Not so bad, not painful, just redness and a little "plumpness" on the Brazilian area.

Anyway, the redness was nothing, I didn't feel anymore pain immediately after waxing. Treat the redness as a mosquito bite (okay, many mosquitoes bites?) but without the itch and pain?

The wax alone took me about 15 minutes. After factor in the consultation, changing and unchanging, touch-ups, taking Peace ampoule, and after-care kit collection, I only stayed for about 30 minutes inside Strip!

Some little tips to share, what I did.

Here are just some suggestions from myself, not in anyway suggested from Strip.

[1] Before I went for my Brazilian, wax, I took a shower, cleansed myself. You won't want to embarrassed by the weird smell infront of the Waxpert!

[2] I wore a panty made of cotton material, so that my Brazilian area would feel comfortable after the wax.

[3] Wear cotton/silk panty for the next few days after the Brazilian wax, you won't know if the lace will cause itchiness or discomfort to the Brazilian area.

Do's and Dont's recommended by Strip


[1] No hot baths.

[2] No swimming or sunbathing.

[3] No heat or UV treatments like sun beds or saunas.

[4] No tight clothing.

[5] No perfumed products including deodarant, anti-perpsirant, self-tanner or make-up.

[6] No touching, scrubbing or rubbing of the area unless you want a bacteria infection!

[7] No intense exercise, you won't want to pull or stretch the delicate skin!

[8] Do apply their recommended after-wax care products regularly, so as to prevent/treat ingrown hair.

[9] Do exfoliate every 4-7 days, starting 3 days after the wax. The after-wax care products will include a scrub.

Let's take the day (Monday 16 May 2011) when I did my Brazilian wax as Day 1. Yesterday's my Day 2, there's still some redness, but less "plumpness" on the skin. No itch, no pain, but very clean and smooth down "there"!

Especially when I bath, I can't help but feel so naked and cleaned! And when I apply my shower gel, the Brazilian area feels Xtremely smooth!! ^.^