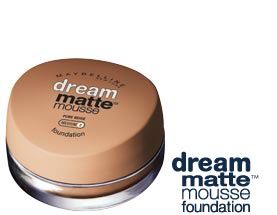 MAYBELLINE DREAM MATTE MOUSSE FOUNDATION
I 3< this foundation! I've been using this for a week now and all i can say it's gawjus! I was a bit hesistant to try this when i read mixed reviews on MUA and i always have problems with DRUGSTORE foundations!! I also had breakouts after using Max Factor Color Adapt and CoverGirl TruBlend so this is definately HEAVEN!!

The texture is mousse like whipped creme makes it easy to blend with my skin, especially when the MEDIUM BEIGE(med 3) matched my By Terry #3, GA LSF#6 PERFECTLY!!! It's not too orange, too yellow and too pink. The coverage is buildable and eventhough when it was in sheer coverage, it does a good job in covering all the redness and stay matte for whole day! Say no more to CONCEALER! My Combi Skin especially my Tzone don't even need to BLOT at all in this humid Malaysian weather
I love the natural finish, light consistency, non greasy, long lasting and the fact that i don't look oil slick by 11am. It does not absorbs as quick as the CG and MF so it's easier to blend blend blend.
Packaging:
Instead of pump bottles like CG TruBlend and Max Factor Color Adapt, this comes in cute round glass jar. Because it's in jar and have mousse texture reminds me of Stila Rouge Pot. Since i hate dipping my fingers into the jar and don't like the idea i might drop this glass jar anytime soon, i have transfered some to another small container. Dry Skin - you need to apply this over moisturizer otherwise it'll sink into fine lines.

4/5 starts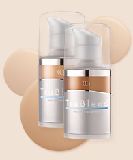 COVERGIRL TRUBLEND FOUNDATION
TruBlend is similar to Max Factor. Claims to match 97% of skin tones yet have so many shades available. Most of the shades are either too pink or yellow. For my LSF#6 i use Creamy Beige and Buff Beige. I get perfect match if i mix both of this shades. There's no SPF in this foundation either.

This foundation is very light and gives natural dewy finish. It blends really well and not cakey at all - sometimes i find this too CHALKY on me. It have the same texture/consistency like Max Factor - fluffy whipped cream type but i find that the coverage is better than Max Factor. CG TruBlend gives light - medium coverage and it's buildable. A friend of mine use this as concealer instead of foundation(she dont have a lot of thing to cover anyway LOL)

Eventhough the coverage is better than Max Factor, i find the lasting factor is low compare to Max Factor. This one sure make me look like OIL SLICK by 11am. I think this is better for drier skin since it's too moist on me but this still accentuate flakey patches on my combination dry areas. It also gives me zits/bumps everytime i use this.
Packaging:
Similar packaging style to Max Factor Color Adapt. The bottle is nicer and the pump work heaps better than MF Color Adapt.
2/5 stars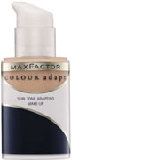 MAX FACTOR COLOR ADAPT
This is the latest foundation from Max Factor. Bought it in March and been using it on and off. The texture is mousse like and gives you semi matte and smooth powdery finish. Since the coverage is sheer, you still need to use concealer if you want to cover redness. I find that Tinted Moisturizer works better in covering than this. This fdn spreads really easy and smooth but DRY skin beware - you need to blend this fdn very fast otherwise it's harder when it turns matte. This will accentuate your dry flakes so remember to use moisturizer under this and i don't think using a PRIMER will be a good idea with this foundation. WHY? Because there's too many silicone's in this product.

Unfortunately, i have to stop using this after 3 applications because it cause me breakouts and irritation. I also find that the mousse consistency turn to liquid after a while. So the mousse texture does not last long!

Max Factor claims that this foundation will *adapt* into your natural skintone yet i am very confused! If this will adapt into your skintone why don't they just produce shade range like Light, Medium, Dark(similar to most of tinted moisturize) instead of all the shades available. I tested most of the colors and yes, it sink into my skintone a bit because the coverage is very SHEER.
The color choices are very limited and most of them are either tooo ORANGE, too YELLOW or too PINK. SAND blends pretty well on my LSF#6, but it slightly pinky on me.

Overall, i recommend this foundation (1) If the shade match you perfectly (2) Love sheer coverage (3) HAVE GOOD SKIN to begin with!
Packaging:
It comes in hygenic pump bottle which is easier to carry/pack and of course less messier(love the fact that i dont need to dig my fingers/use spatula to use this foundation) Cons: I really think they need to improve their pump thingy. A lot of products will come out with one pump. I think One pump is like 3 pump. This reminds me of my Boots Illuminating TM
1.5/5 stars
NEUTROGENA SKIN CLEARING TRIO
3< this too
Comes in a sleek plasticky compact that's easy to carry around. This is dermatologist recommended and non - comedogenic so definately won't clog pores. Well, this does not clog my pores at all!

There's 3 different products in this trio and it claims to treat blemish. All of them contains Salycylic Acid to combact and prevent from further breakouts.

1. Acne Treatment - This is gooood! I use this alone before sleep or before i put on my makeup. This goes transparent and my skin kinda like this! This treat my blemish better than Ettusais Medicated Acne Concealer because after 3 days using this, the zits are goooneee!

2. Concealer - Slightly creamy but not as good as LP Caviar concealer but pfff i'm not really a concealer person anyway
I find this so-so but definately covers much better than Ettusais Medicated Concealer. This one claims to treat blemish too. I think there's a lot of other concealers out there for me to explore
Atm, i'll stick to my LP Caviar and fdns.

3. Powder - Normal pressed powder that contains Salycylic Acid. This one controls oil pretty good and does not cakey at all. I have this funny problem when it comes to Pressed powder. Sometimes i feel itchy when i bought wrong pressed powder so i'm really scared to try this at first but i'm sold! Does controls shine, does not give me that horrible funny itchy feeling and no BREAKOUTS at all!

Overall, i think this is great product! You get 3 pdts in one compact and i find this is great for travelling
3.5/5 stars