I went for the makeover expecting to have some contrasting combi or smokey eyes but the MA suggested a more "summer" look as Sundressing was launched that very day so here's the outcome..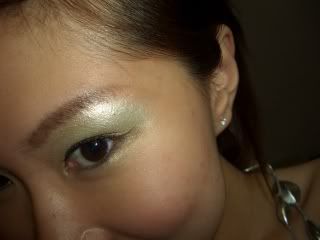 Nylon (Highlight)
Lustreleaf (Crease)
Summer Neutral (Lids)
Powerplum Liquidlast Liner (Upper Lids)
Permaplum Powerpoint (Lower Lids)
I was quite satisfied with the outcome but it's a pity my camera couldn't capture how the combi brightened my eyes! In case you're wondering, the MA chose purple liners because I was wearing a purple top! Credits to Sara from Isetan Scotts!
Thanks for looking, pardon the pimply and oily skin, pics were taken after a long day!