Im sure most of you have tried chocolate fondue, how about cheese fondue? I've heard about cheese fondue when i was really young but never had a chance to try it till last year and it was like a dream come true! lol.. oki.. i sound like im exagerrating right? haha.. but just to share it with you guys...
I had it at Swiss Culture - Suntec City, near the sky garden.

they offer Cheese Fondue, Beef Fondue, Chicken Fondue, Seafood Fondue and Chocolate Fondue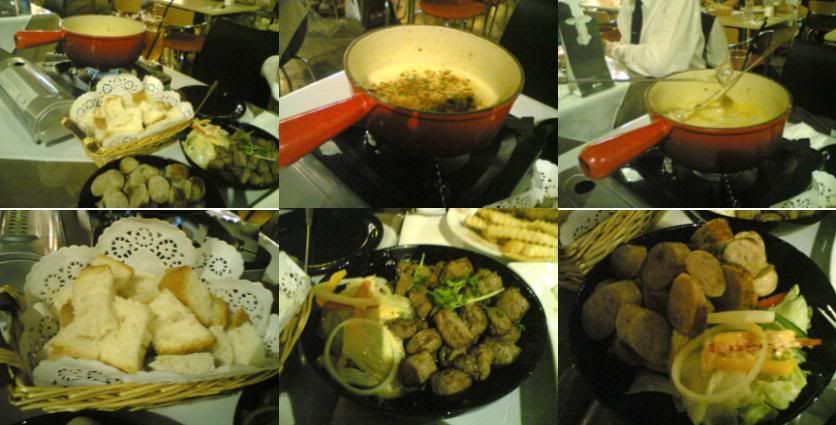 The beef cubes and pork sausages were side orders to dip into the cheese fondue. The bread came together with it... in fact, the bread was free flow.. Wana know how it tasted? It was simply GREAT. i dun regret looking forward to it for my whole lifetime.. erm.. oki.. maybe i exaggerated abit there.. But it was really quite yummy..
When u place the food into ur mouth, the cheese surrounding it would feel cheesy and powdery... as if its melting in ur mouth... ahhhhHHHHHH..... Cheese lovers, MUST TRY!!! the texture is simply great and its so fun to eat! hee hee...
the server was very nice, clearly explaining how to eat and the different fondues to us.. i think he could sense my ethusiasm as well.. haha