I had a great dining experience at Tao Restaurant. Be it how special their food is or their good service, i give my thumbs up!
Below's my recommendation:
This is their menu.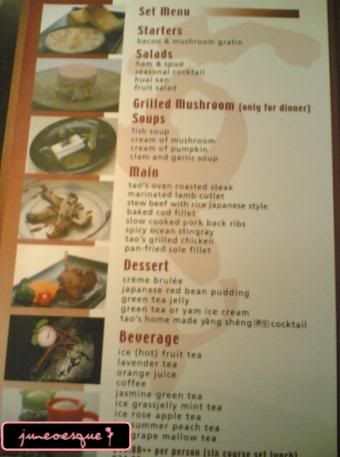 I hope u can see it clearly. If i recall correctly their lunch is around $19.80 per set and dinner is around $24.80 per set.
The lunch set consists of Starters, Salads, Soups, Main, Dessert and Beverage. the only difference between lunch and dinner is dinner has an additional Grilled Mushroom.
If after ordering the set u want to order something else extra, you can. They have an ala carte menu. On the average the starters, soup and desserts are around $3.50 to $4.80. The mains are around.. $13.80 to.. $16.80 ( if i recall correctly la).
We were first served the
Starters
.
The Bacon & Mushroom Gratin were served to us by a very soft-spoken waiter. He was not only soft-spoken but very smiley! Very good service! He even introduced the different ingredients of the gratin to us and adviced us to slowly spread it on the toasted bread.
next, we were served our
salads
....

Totally DIG the seasonal cocktail's salad sauce. Its abit like soya sauce colour, tastes a little sourish like vinegar and a little taste of wasabi. Despite not being a wasabi lover, i love the sauce.
The Huai San, according to a waiter, is some chinese herb that's good for complexion and detox. To me, it tastes crunchy (abit like radish) but is surrounded by a layer of gluey and sticky texture. I personally don't dislike it but i don't like it either. Its most probably an acquired taste.
The ham and spud is the safest thing to order i guess. Its really like normal salad, the ham that i believe almost everyone likes, the veges and u see that whiteish thing in the middle? Its half a potato (very nice potato) covered with a layer of mayo like sauces and topped with some cheese. NICE!
We were served our grilled mushroom.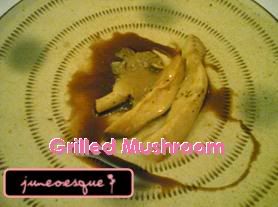 This is the item that's only available for dinner. Its taste was not bad.
Next, we were at our soup ....

Before i tell u about the soup, i was observing this server who was serving us....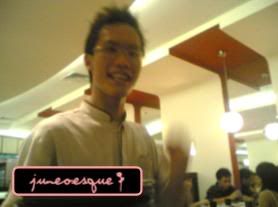 Him! I find that he looks like the server who's in the Tao's advert! And so we asked him. N he admitted he is the one!
He was very friendly and nice. He tried to tell us he'll take a pic with all of us later (which was unnecessary actually) so we told him we just wana take a pic of him serving us. HAHA! n he graciously agreed. He was joking around with us the whole night and i gotta say, all their staff give VERY GOOD SERVICE! VERY!
Oki, back to our
soup
. The clam and garlic soup. We ordered it expecting it to be a cream based soup and so was very surprised to see that its clear soup. It feels very much like the juan *** (ie.steamboat) soup base. The clam smell is very strong. Too strong in fact. Makes it too.... calmy.
The cream of mushroom soup. It was ... ok. Not bad but not special u see. We're expecting to taste different and special food. haha.. but seriously it tastes alright.
Den it was the fish soup. it came in very special 'bowl'.
In teapot form and a small cup. Looks like those ancient times wheres the pugilistic warriors drink wine huh?
We were then served our
mains
.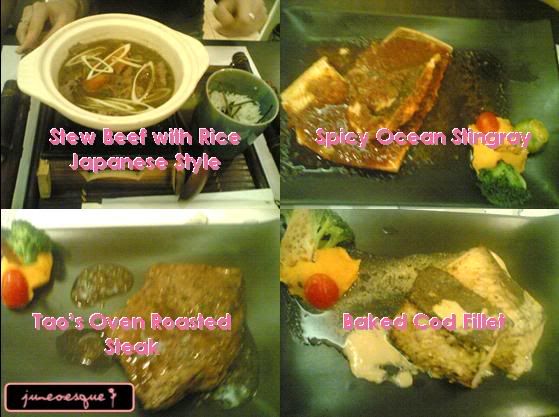 The Stew Beef with Rice Japanese Style was... VERY NAP AH!!! VERY VERY NICE AH!!! The sauce was very beeeefy!
But according to Icy, the rice was.. abit too dry.. WOOO! Power!
The sting ray looked very appetising. But i didn't try it coz i don't really like spicy stuff. My friend said its really quite spicy.
I ordered the oven roasted steak. Also veryyyyyyyyyyyyyyyy nice! I asked for the steak to be medium and it was nicely done.
Lastly was the cod fillet. Also very nice! The quantity was just nice and the baking totally brought out the taste of the cod fish. The sauce also went very well with the cod fish. *YUM*
We were then served our
desserts
....
The yang sheng cocktail tastes abit like some red dates syrup with white fungus bits. A very refreshing taste as well.
The green tea ice cream was nice!
The creme brulee was yummy also!
Finally it was the
drinks
...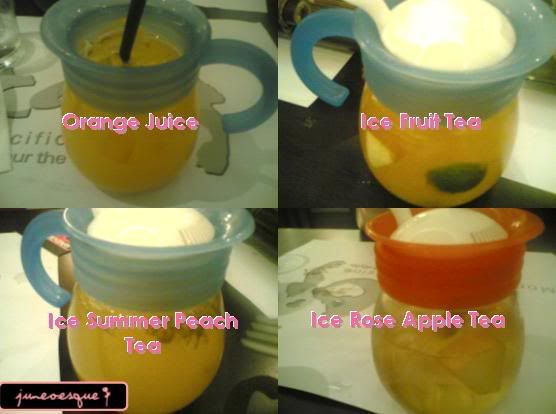 The orange juice was.. NICE ***!
The ced fruit tea which was... funny to me. The taste was like... sweet not sweet... sour not sour. =x keke...
The Ice Summer Peach Tea. They all said its got pineapple taste. As for me, i felt *** its got ... table taste. U must be thinking ??~!!??? *** table taste? I duno.. its just very teak very woody taste. But it a special taste. Not bad one. Can try.
Finally the Ice Rose Apple Tea was the best taste one! It was sweet but the after taste was very good! It lingers in the mouth!