Item 1:
Tank-Top Pleated Maxi (Satin Black)
Exclusively Imported By LolliepopBestie
Measurements: Ptp: 17? Length: 48?
Sizing: Fits Uk6 ? Uk10
Made of chiffon/silk sateen
Silk sateen tank top design with pleated lower skirt
Paper bag pleated details along waist
You can look every bit the glam queen of the party in this maxi and exude a hinge of classiness and style with its flounce details and length.
Match it with heels and a simple clutch for a smart casual party!
Selling at $25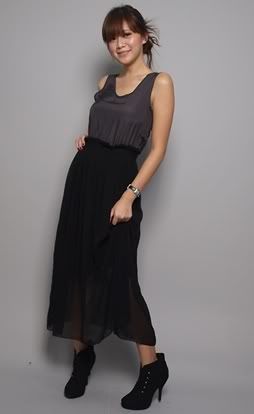 Item 2:
Shawna Skirt in Cobalt (S)
Skirt from LoveBonito
Description
Show off those curves in this season?s hottest midi. Classy and primp, find variety of styles in just one skirt! Elastic band at waist. Slightly sheer under strong light. Made of cotton-lycra mix.
Measurements: Size S measures 10.5" to 17" waist, 15" to 21" hips, 26" down.
Size M measures 11.5" to 18" waist, 16" to 22" hips, 26" down.
Model Beatrice is a UK 8, 164cm and model Zianna is a UK 6/8, 172cm. Both wear size S.
Selling at $25
Item 3:
Felicity Chiffon Maxi Skirt in Mustard
Skirt from momoteapots
Description
Elastic back
Comes with side zip for better fit
Inner short skirt lining
Comes with brown belt as seen in pics
ACROSS TOP: ~12-14"
LENGTH: ~34.5"
Selling at $25
Please contact 82888442 or email
[email protected]
to deal. Thanks!