Please note:-
* If you have any enquiries, please
email me at
wintertea @ gmail.com
.
Please don't post in thread, thanks!
* All prices inclusive of normal mail. Please add $2.25 for registered mail.
* I will not be responsible for items lost via mail thus registered mail is encouraged.
* Payment via IB transfer to be made within 24 hours after confirmation or item will go to next interested buyer
*
No meetups, no exchange of mobile numbers (no exceptions)
* Items sold are non-exchangeable and non-refundable.
* Trades welcome (cash sales have priority over trades)!
*
DEADBUYERS PLEASE STAY AWAY AND DON'T WASTE MY TIME. YOU WILL BE BLACKLISTED
----------------------------------------------------
LOOKING FOR FAYETTE BUSTIER SIZE XS/S & THISTLE T-BAR WEDGES BLACK SIZE 35!
SALE ITEMS
TheVelvetDolls Basic Bandage Tank Top in Coral
Thick quality jersey
PTP: 13-16.5"
Length: 23.5"
BNIB
$22 mailed (original $22)
Ohvola Swiss Dot Dress in Navy Blue Size S
Made of cotton, concealed side zip is available for easy wearing. Belts are not included
Size S measures 16"ptp 13"waist 16.5"hips 31.5"down
BNIB
$28 mailed (original $27 + $1.50 mail)
Ohvola Mikaela Work Dress in Black Size S
Exposed zip at back. Made of slight sheen linen polyester blend. Belts not included.
Size S Measures 15.5"ptp 17"hips 33"down
Washed but unworn
$25 mailed (original $26.50 + $1.50 mail)
Dressabelle Chloe Lapel Dress in Caramel
Belt not included
Worn once
$18 mailed (original $28 + $1.50 mail)
Love Bonito Cecilia Dress
Made of cotton crepe, fits UK 6-10 best.
Measurements: 17" PTP, 15.5" waist, 17" hips, 32" down.
BNWT
$27 mailed (original $29)
Momoteapots Rhythm of Love Dress in White Size S
A sell-out design at both Vainpot and
[email protected]
Good quality comfy material
Back zip
Inner skirt lining
Comes with matching cloth sash
Functional side pockets
Size S
PTP: ~16"
LENGTH: ~32.5"
BNIB
$27 mailed (original $28.50)
Pieces of Summer Gathered Halter Dress w Ribbon Tie in Iris
Made of great quality crepe chiffon material with a slight sheen.
Non sheer & inner lined.
Fully adjustable neckline & ribbon tie.
Belt is not included.
PTP: max 23.0" Length: 32.0"
BNIB
$26 mailed (Original $2
Amber Avenue Earleen Ruffle Blouse in Scarlet Size S
Featuring back button closure, fully lined and slight sheer under strong light. Made of chiffon.
Size S measures 23.5" long, 15.5" PTP
Washed but unworn
$25 mailed (original $26 + $1.50 mail)
Kristine's Dottie Love Fling Dress in Noir Size S
Fully lined with back zip closure.
Material is made 100% Polyster
Size S: Ptp:15 to 16 / Waist:12.5 to 13 inches / Hip: flare / length:34
BNIB
$34 mailed (Original $34 + $1.50 mail)
Kristine's Structured Workdress in Black, Size S
Ptp: 15 to 16
Waist: 13 inches
Hip: 18 inches
Length: 36 inches
Washed, unworn
$28 mailed (original $39.90 + $1.50 mail)
Yixiaodian HL Textured Bandage Skirt, Size M
Made of polyester cotton blend (stretchable)
Size M, Fits UK8-10, Length: 17", Waist: 14", Bottom: 16"
Washed once, unworn
$25 mailed (original $26)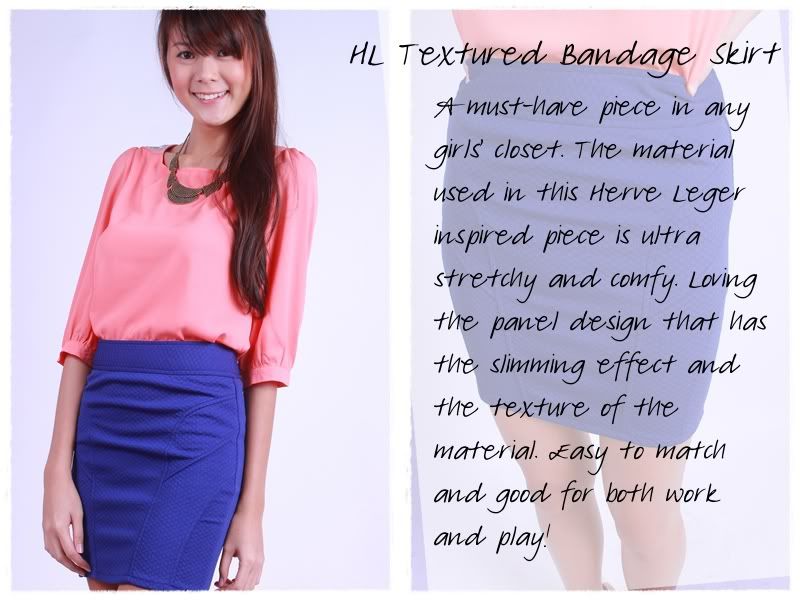 Monochrome Knit Dress
Material: Cotton
Chest: 80-84 cm
Length: 82 cm
Washed, unworn
$23 mailed ($25.90 original)
Red Patent Heels
Size 35
Heel height: ~ 8cm
BNIB
$18 mailed
----------------------------------------------------
SOLD OR TRADED



Kristine's Pleated Swing Dress in Christmas Green, Size S
Love, Bonito Alejandro Dress in Forest, Size S
Love, Bonito Edinburgh Dress in Crimson, Size S
Dressabelle Reily Hounds-tooth Dress in Green
TheBlushInc Lace Halter Top in Champagne
Agneselle Herve Leger Inspired Dress in Black
Love Bonito Davenport Dress in Forest, Size S
Hello Blog Shop Chinese Red Knitted Skirt
Ohvola Alluring in Pleats Dress in Navy Blue
Pearlavish Basic Pocket Tank Dress in Black
Love Bonito Carroll Top in White Size S
Momoteapots Fickle Fancy Dress in Navy Size S
Ohvola Candy Stripe Day Dress in Daffodil
Lacepipe Perfect Twirls Chiffon Dress in Cream
Love Bonito Randall Bustier Size S
Red Toga Dress
Lilypirates Be My Valentine Dress in Champagne Size S
Earl Grey Party Romance Lace Poof Dress "EGP-Label" in Rust
Love Bonito Tashe Maxi in Black Size S
Love Bonito Tashe Maxi in Dusty Purple Size S
Love Bonito Fanningdale Frock in Green
Love Bonito Malibu Maxi in Fuschia Size XS
Love Bonito Jeffers Skater Dress in Burnt Orange Size S
Hollyhoque Felt-Textured Pencil Skirt in Black Size M
Blue Hooded Dress
Love Bonito Temperley Top in Ivory Size S
Love Bonito Carroll Top in White Size XS
Love Bonito Tisha Tank Maxi in Navy Blue Size S
Yixiaodian Victoria's Posh Keyhole Top in White, Size S
The Blush Inc Crimson Safari Dress Size S
Agneselle Sweetheart Bodycon Dress Black
Love Bonito Alethea Dress Size S
Megagamie Nothing But Contrast Basic Dress in Black Size S
Agneselle Sweetheart Neckline Tulip Dress in Red Size S
The Closet Lover Floral Crochet Top in Creme