Tired of the limited plus size options in the local shopping scene?
Wondering why all those big retail chains descend upon our little island but won't stock anything beyond a US L?
Can't believe local blogshops call a US M "free size"?
Like what you see online but don't want to risk having to make an international return?
Join the
TOUGH CLUB
at Shoesandsealingwax!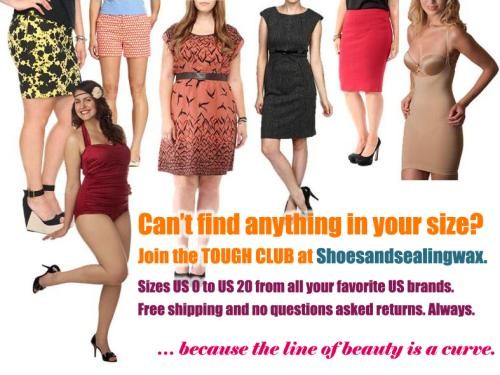 Fab and flattering togs in US 0 to US 20, handpicked by a US16 with curves like yours.
High quality Maidenform shapewear solutions, seriously cute Modcloth swimwear, well-cut workwear and everyday essentials with a mix of practicality and whimsy from well-known American retailers.

With apparel ranging from US 0 to 20 and pretty accessories for you and your home, there's something for every girl!

Most basics start around $15 (yep, cheaper than Giordano these days) with authentic designer CK and Jason Wu frocks hovering around an unbelievable $75 max (YEP, better quality and cheaper than MNG/G2000/Bysi).
Quick and friendly customer service, free normal shipping, and 7 day return policy on all non-intimate apparel. Always.
All items in stock in SG and shipped within 2 business days.
I don't stock anything I wouldn't look good in myself ... and I won't make you keep anything unless you're perfectly happy with it!

I prefer to transact through Ebay as it is safer, but if you don't use Ebay, just email homespunthings[at]gmail[dot]com or respond to this post with the items you're eyeing and I will email you right back.

Check out my 1000+ rave reviews for yourself at shoesandsealingwax and durkhaima and know your satisfaction is guaranteed!