ALL ITEMS ARE BRAND NEW, QUALITY ASSURED.

PREFER MEET-UPS
Hollyhoque HH Powerpuff Sleeves Blazer - Black (Brand New with Tag)
SGD27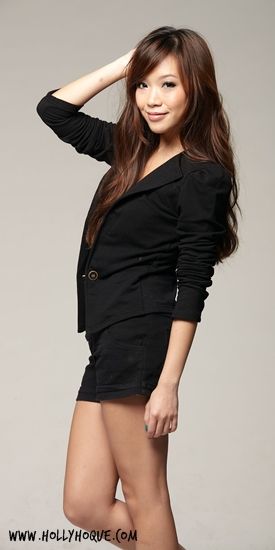 http://i854.photobucket.com/albums/a...ol%20102/7.jpg
TVD Lace Bib Chiffon Blouse - Ash Blue (Brand New In Bag)
PTP 17.5"
Length 24"
Made of georgette chiffon
Slightly sheer for lighter colors, nude undergarments advisable
Fits UK6 - big UK8
We love the Victorian feel of this well made chiffon blouse with an elegant lace bib and pleated details, accompanied by a quirky Peter Pan collar that adds a vintage touch to your look! Pair it with a cute flared skirt or high-waisted shorts and it's perfect for a day out
SGD27
http://farm6.static.flickr.com/5176/...4f528eed3d.jpg
LB Bourgeois Cheongsam (M) (Brand new With Tag)

A posh dress that exudes elegance and sophistication. Extremely gorgeous number and a must have for all those important functions.
Size M measures 13.5" to 16.5" PTP, 34" collar down, 13" at the waist, 17" at the hips. Fits UK 8.
SGD30
http://www.lovebonito.com/551-bougeois-cheongsam.html
MGP Lace Cheongsam Top in Purple (Brand New)
Pit to Pit : 12-17 inches
Shoulder to Hem : 25 inches
Made of satin underlay and lace. Side Zip.
Deck out in this tasteful cheongsum lace top with rich oriental flavour. The lace prints were dedicatedly chosen for its stylish and urban chic look so that it blends nicely with the underlay satin. So how can anyone not have a piece of it this spring festive season!
Self-manufactured by MGP.
SGD24
http://mgplabel.com/pictures/c81/img_3977.jpg
LB Fraise Qipao Top in Red (S) (Brand New With Tag)
An elegant piece suitable for almost any occasion! Dress it up this CNY or stand out in the crowd even after this festive season. A definite head turner.
Size S measures 13" to 16" PTP (hidden elastic band), 24" from the collar down and 12" at the waist. Fits UK 6-8.
http://cdn.lovebonito.com/559-5113-l...-qipao-top.jpg
SGD26.50
Knotted Mesh Dress (BRAND NEW)
Look runway worthy in this stunning number inspired by BCBG!
This dress hugs your curves perfectly and features draped detailing and knoted mesh details at side.
Complete the look with heels and a clutch.
Excellent workmanship.
Made of mesh and stretchy cotton/polyester blend material.
Measurements: PTP 13.5"-17.5", 30.5" down.
Fits up to small UK10.
SGD26
http://i766.photobucket.com/albums/x...esh-dressB.jpg